ACCC REPORT IS GOOD NEWS FOR AUSTRALIANS

Sydney, 29 March 2021 - Communications Alliance welcomed today's Measuring Broadband Australia report published by the ACCC, which shows that broadband speeds are strong and getting stronger.

"This quarter's report showed the highest overall speeds since the beginning of the program in 2018," said Communications Alliance CEO, John Stanton.

"This reflects the ongoing work of nbn and retail service providers to provide Australians with high speed and reliable internet access."

"We are also pleased to see that these reports continue to show customers are receiving the speeds advertised by their RSPs."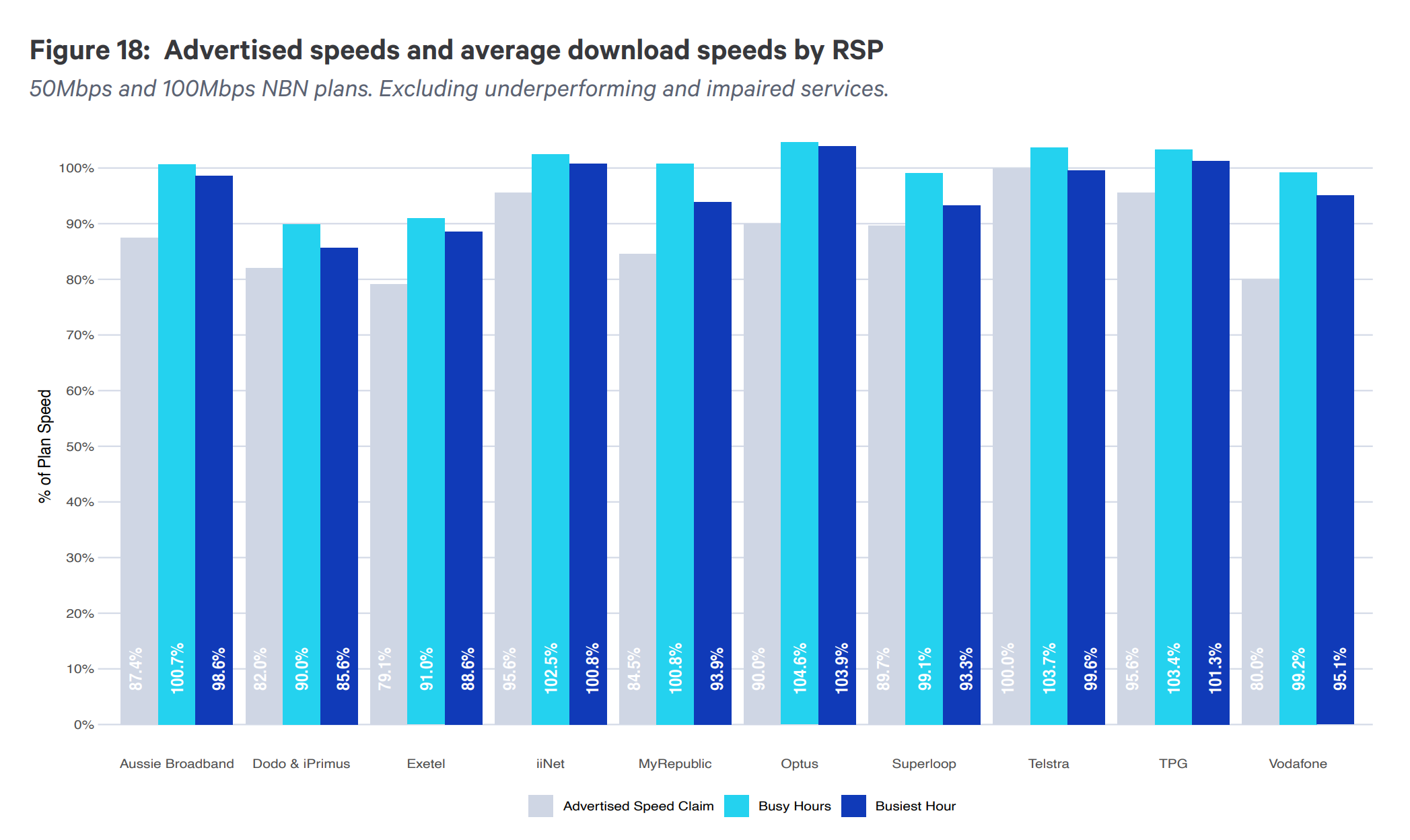 Chart from page 21 of the March 2021 Measuring Broadband Australia report

Stanton continued, saying "while Australians use broadband in many ways – to work, access education, and stay connected to friends and family – the ACCC's reporting on access to streaming services such as Netflix show that customers are also able to easily access entertainment services via all plans."

ABOUT COMMUNICATIONS ALLIANCE

Communications Alliance is the primary telecommunications industry body in Australia. Its membership is drawn from a wide cross-section of the communications industry, including carriers, carriage and internet service providers, content providers, search engines, equipment vendors, IT companies, consultants and business groups.
The most influential association in Australian communications, co-operatively initiating programs that promote sustainable industry development, innovation and growth, while generating positive outcomes for customers and society. To create a co-operative stakeholder environment that allows the industry to take the lead on initiatives which grow the Australian communications industry, enhance the connectivity of all Australians and foster the highest standards of business behaviour. For more details about Communications Alliance, see
www.commsalliance.com.au
.
Media information contact:
Sefiani
Neeley Williams nwilliams@sefiani.com.au
0434 742 551