---
Rewind/Fast Forward - Celebrate the Internet's 20th anniversary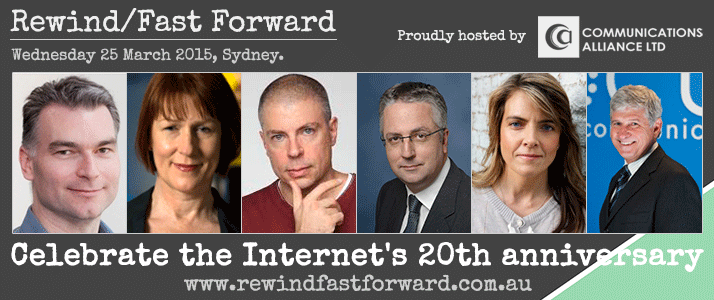 Join Communications Alliance at Rewind/Fast Forward, a one-day event celebrating 20 years in of the commercial internet in Australia on Wednesday 25 March 2015 in Sydney.

Take a stroll down memory lane as we Rewind through the last twenty years, and Fast Forward to make predictions for the next ten, is a series of short, sharp presentations with plenty of question time.

Hear from:
Mark Armstrong - Director, Network Insight Institute
Luke Carruthers - General Partner, 25fifteen
Simon Hackett - founder of Internode
Michael Malone - founder of iiNet
Mark Scott - Managing Director, ABC
David Spence - Chairman, Vocus Communications
plus experts on field robotics, big data, the sharing economy, digital content, disruption and more!

Rewind/Fast Forward
When: Wednesday 25 March, 2015, 9am-5.30pm (followed by drinks and networking)
Where: Doltone House on Hyde Park, 3/181 Elizabeth St, Sydney
Cost: $330
Special rate for Communications Alliance members: $220 (enter the code RFF2015-CA)
Web: www.rewindfastforward.com.au/2015/

---