Events Calendar
---
Comms Essentials – Fraud and Mobile Payments
Wednesday 02 August 2017 Sydney
Wednesday 02 August 2017 Melbourne
Hosted by

Background:
This Communications Alliance Comms Essentials seminar will focus on fraud committed using a mobile device and mobile payments more generally.
Given consumers' increasing preference to use mobile devices for all kinds of everyday activities, it is not surprising that these devices are also being used to commit or attempt to commit fraud, particularly for financial transactions.
Also of interest for our industry is the arrival of the New Payments Platform with the launch targeted for November 2017. The new platform will enable real-time clearing and settlement for simple or complex payment solutions, between two people or between many different parties. It is expected that a large number of financial institutions and other organisation will connect to the platform over time.
Fraud, ID theft and mobile payments, the way they relate to each other and what can be done to minimise the former while facilitating the latter is a topic of priority for the telecommunications industry. An informed debate will assist all stakeholders to move into a more secure mobile payments future.
Who should attend:
Communications Alliance members.
PLEASE NOTE THAT THIS IS A MEMBERS AND SELECTED STAKEHOLDERS EVENT ONLY.

"Fraud using a mobile phone: how, when, who – an overview" Speaker: David Pegley, Managing Director, Australian Financial Crimes Exchange & Speaker: Detective Acting Superintendent Matt Craft, Acting Commander of the NSW Police Force's Fraud and Cybercrime Squad
"New Payments Platform – what is it and what will it mean?" Speaker: Adrian Lovney, Chief Executive Officer, NPP Australia
"Liability issues for telecoms providers for fraud and identity theft" Speaker: Patrick Fair, Partner, Baker McKenzie

Q&A Facilitator: John Stanton, CEO, Communications Alliance

When:
Wednesday, 2nd August 2017, 9:30am to 12:00pm
Where:
SYDNEY - Baker McKenzie, Level 27, AMP Centre, 50 Bridge Street
and via video link
MELBOURNE – Baker & McKenzie, Level 19, 181 William Street
Cost:
Communications Alliance Members - No charge
PLEASE NOTE THAT THIS IS A MEMBERS AND SELECTED STAKEHOLDERS EVENT ONLY.
---
ACOMM AWARDS 2017
Wednesday 19 July 2017 Sydney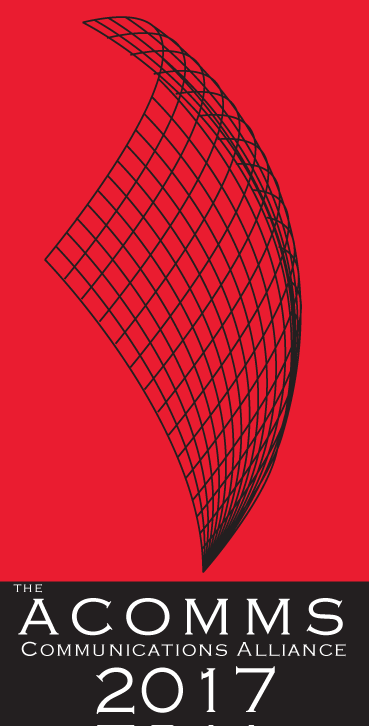 The ACOMM Awards 2017- was a glittering showcase of telco industry achievement.

The winners of the 2017 ACOMM Awards were unveiled and celebrated during the 11th Anniversary of the Annual Communications Alliance ACOMM Awards Dinner - held on Wednesday 19 July 2017 at the Hyatt Regency in Sydney. See the 2017 winners here www.acomms.com.au

Highlight video from the night. View here

Sponsorship Opportunities for 2018
ACOMMS is a sell-out event with over 450 senior industry people attending. Sponsoring the ACOMMS provides a unique opportunity for brand positioning. As a sponsor, you will have your organisation highlighted in front of some of the most influential professionals and decision-makers in the Telco industry. Please contact Carolyn Todd on 1300 651 485 or email info@acomms.com.au to discuss sponsorship opportunities at the ACOMM Awards 2018.
ACOMMS 2017 Photo Galley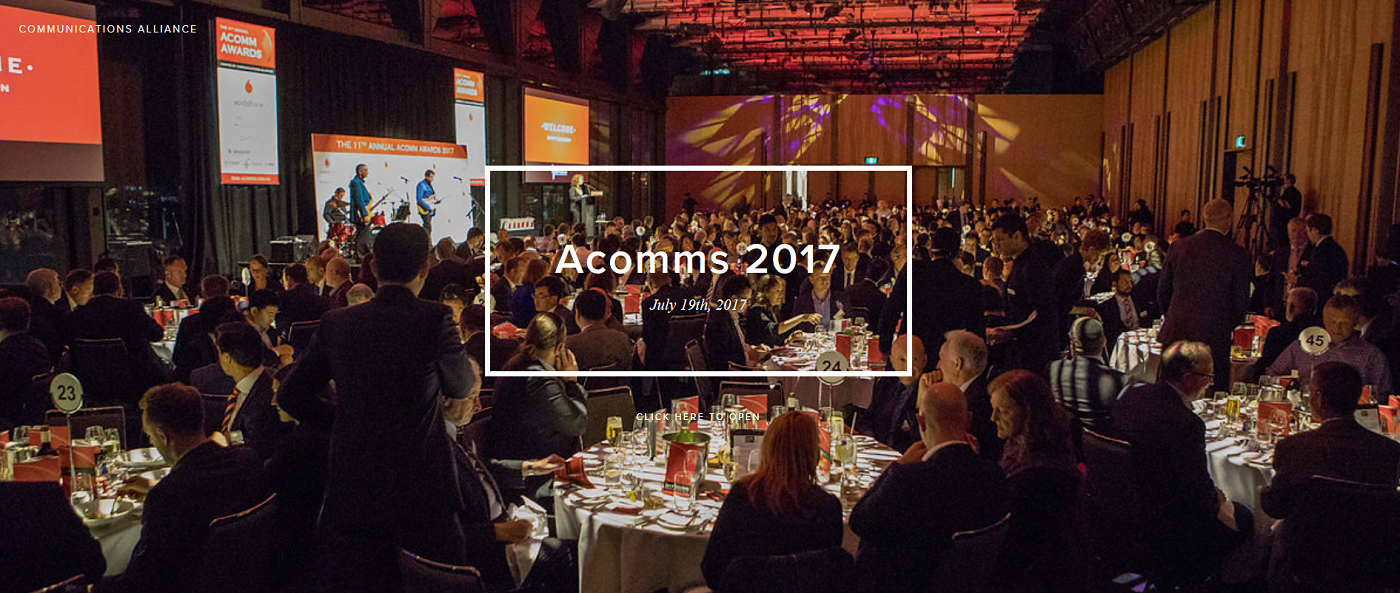 ---
Comms Essentials – Privacy Legislation
Thursday 23 March 2017 Sydney
Thursday 23 March 2017 Melbourne
Hosted by

Background:
This Communications Alliance Comms Essentials seminar will focus on the recent changes (proposed and effective) to privacy legislation and what the changes mean for telecommunications providers. It will also provide a brief update on developments around the Data Retention Regime and the access to retained data in civil proceedings.
On 23 February 2017, the Privacy Amendment (Notifiable Data Breaches) Bill received Royal Assent with the new provisions becoming effective on 23 February 2018. The new law constitutes a significant change for providers as it requires them to give notice to the Australian Information Commissioner and affected individuals of an eligible data breach. The seminar will examine the new law and consider some of the 'tricky issues' such as the requirement to investigate suspected breaches or the threshold for causing 'serious harm', including emotional harm. The new requirements are especially important against the background of the Data Retention Regime which becomes fully effective on 13 April this year.
In addition to the Notifiable Data Breaches Bill, the seminar will provide insights into the Privacy Amendment (Re identification Offence) Bill 2016 which is now before the Senate. This Bill is set to amend the Privacy Act to prohibit conduct (and make it a punishable criminal or civil offence) related to the re-identification of de-identified personal information published or released by Commonwealth entities.
Who should attend:
Communications Alliance members and other stakeholders.
Timothy Pilgrim PSM, Australian Information Commissioner and Australian Privacy Commissionerrogram:
"Data Retention Update" Speaker: Christiane Gillespie-Jones, Director Program Management, Communications Alliance
"Notifiable Breaches Bill and Re-Identification Offence Bill – Legal Overview" Speaker: Patrick Fair, Partner, Baker & McKenzie
"Data Breaches – Investigation, Remediation, Notification – Real Life Considerations" Speaker: Jason Holandsjo, Chief Privacy Officer & Chief Compliance Officer, Telstra
"Notifiable Breaches – An OAIC Perspective" Speaker: Timothy Pilgrim PSM, Australian Information Commissioner and Australian Privacy Commissioner
Q&A Facilitator: John Stanton, CEO, Communications Alliance
When:
Thursday, 23 March 2017, 09:30am to 12:00pm
Where:
SYDNEY - Baker & McKenzie, Level 27, AMP Centre, 50 Bridge Street
and via video link
MELBOURNE – Baker & McKenzie, Level 19, 181 William Street
Cost:
Communications Alliance Members - No charge